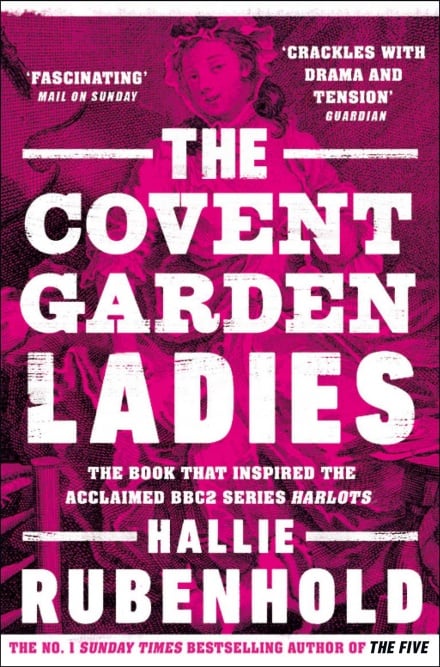 (Tempus Publishing, 2005 & Transworld/Doubleday 2020)
In 1757, a down-and-out Irish poet, the head-waiter of Covent Garden's Shakespeare's Head Tavern, and a celebrated London courtesan became bound together by the publication of a little book: Harris's List of Covent Garden Ladies.
This salacious publication detailing the names and 'specialities' of the capital's prostitutes eventually became one of the eighteenth century's most successful and scandalous literary works, selling over a quarter of a million copies.
During its heyday (1757-95) Harris's List was the essential accessory for any serious gentleman of pleasure. Yet beyond its titillating passages lay a glimpse into the lives of those who lived and died by the List's profits during the Georgian era.
The Covent Garden Ladies tells the story of three unusual characters: Samuel Derrick, John Harrison (a.k.a Jack Harris), and Charlotte Hayes, whose complicated and colourful lives were brought together by this publication.
The true history of the book is tragicomic opera motivated by poverty, passionate love, aspiration and shame. Its telling plunges the reader down the dark alleys of eighteenth-century London's underworld, a realm populated by tavern owners, pimps, punters, card sharps and of course, a colourful range of prostitutes and brothel-keepers.
Reviews:
Rubenhold proves herself both a keen researcher and a writer who understands narrative tension…a compelling and ingenious book…
The Independent, 29 May 2005
…a good story…impeccable…
The Times, 16 April 2005
Scrupulously researched and cleverly structured…Among the scurrilous tales of 18th-century low life…this one is the most intriguing.
The Daily Telegraph, 19 June 2005
Rubenhold's pages practically reek with smelly, pox-ridden Georgian Soho. She shows, with a complete lack of po-faced sermonising, the dangers of prostitution as well as the possibilities it offered, and she creates a narrative from the interrelated fortunes of her three main characters that crackles with drama and tension.
The Guardian, 10 June 2006
A fascinating exposé of the seamy side of 18th century life (awarded five stars)
The Mail on Sunday, 18 June 2006
The Covent Garden Ladies has all the atmosphere and edge of a good novel combined with the erudition and scholarship of history at its best. With this magnificent debut Hallie Rubenhold deserves to storm the literary world.
Frances Wilson, author of The Courtesan's Revenge
What a marvellous read Covent Garden Ladies is. I absolutely loved these divinely irresistible rascals and the brilliant telling of their escapades.

Leonie Frieda, author of Catherine de Medici.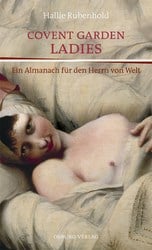 German Edition:
(Osburg Verlag; 2009)
Covent Garden Ladies: Ein Almanach fur den Herrn von Welt