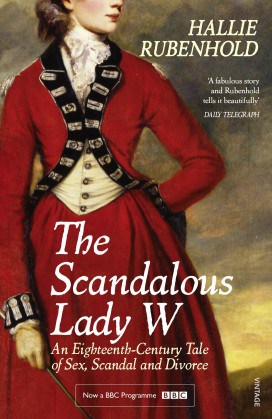 In addition, the Scandalous Lady W was featured on the cover of the Radio Time for the week of the 10 – 17th of August 2015.
The book was also published in the USA as "The Lady in Red".
The book is a tale of sex, scandal and divorce in 18th Century England.
She was a spirited young heiress. He was a handsome baronet with a promising career in government. Their marriage had the makings of a fairy tale but ended as one of the most scandalous and highly publicised divorces in history.
The Worsleys, as friends of Georgiana, the Duchess of Devonshire were part of London's fashionable set and indulged in its extravagant and hedonistic lifestyle. However, unlike the Duchess, the Worsleys failed to keep their sexual affairs out of the public eye. Their menage a trois became headline news and had devastating consequences.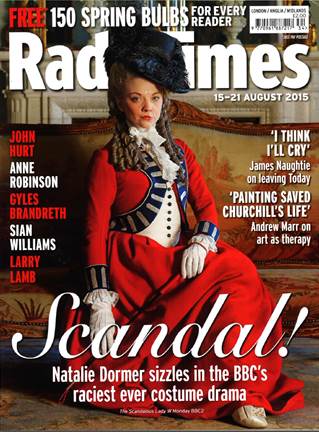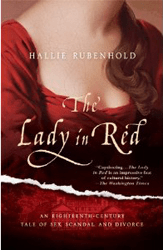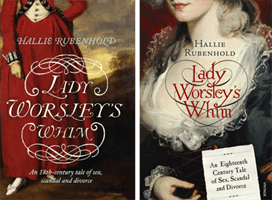 In February 1782, England opened its newspapers to read the details of Sir Richard Worsley v. Maurice George Bisset, a Criminal Conversation trial in which Sir Richard attempted to sue his wife's lover for an astronomical sum in damages. In the course of the proceedings, the Worsleys' scandalous sexual arrangements, voyeuristic tendencies and bed-hopping antics were laid bare.
The trial and its verdict shocked society, but not as much as the unrepentant behaviour of Lady Worsley who, since her elopement with Captain Bisset, defied all social convention by flaunting her sexual conquests and mercilessly baiting her husband in the press.
Lady Worsley's Whim is an eighteenth century drama where society, the press and the newspapers play a role in what can be considered one of the first celebrity divorce cases. More than a court room drama, it a thrilling tale of romance, revenge, and obsession which follows the lives of Sir Richard and Lady Worsley as they survive financial ruin, foreign adventure and revolution.
Their story has never before been told. For over two hundred years it lay buried in long-forgotten pamphlets, yellowing satires and uncatalogued letters. Impeccably researched and written with great flair, this lively and moving true history presents a rarely seen picture of aristocratic life in the Georgian era.
Lady Worsley's Whim was Radio 4's Book of the Week from November 3rd – 7th, 2008. It was Read by Rosamund Pike and produced by CSA Word.
http://www.bbc.co.uk/programmes/b00f6mv8
Reviews:
Lady Worsley's Whim should come with a warning: nothing else in the genre is close to being this good. As a historian and a story teller, Hallie Rubenhold is in a league of her own. She keeps you glued to the very last page…
The Literary Review, November 2008
A fabulous 18th century tale of sex, scandal and divorce, and Hallie Rubenhold tells it beautifully.
The Telegraph, 11 November 2008
Rubenhold has an eye for an antique story…deliciously lurid
The Sunday Times, 9 November 2008
The story of the Worsley divorce has never been told before and Hallie Rubenhold tells it with panache. Her account of the elopement is gripping, but this is more than an 18th century bodice ripper. Rubenhold combines narrative skill with historical expertise, and she traces the knife-edge that women walked…with subtlety and assurance.
The Spectator, 19 November 2008
Lady Worsley's Whim is told as a mystery, with Rubenhold keeping up the suspense and providing some surprises along the way. One of the strengths of this fine book is that it forces us to look not only at the unhappy couple but at the wider context…Hallie Rubenhold's even-handed treatment is exemplary.
The Times Literary Supplement, 20 November 2008
Hallie Rubenhold's captivating new cultural history gives an account of one of this century's strangest marital scandals, the tale of the adulterous Lady Seymour Worsley and her vengeful husband, Sir Richard Worsley. . . Ms. Rubenhold's book brings to life the dissipated and alluring world of aristocratic Georgian England, particularly its vexed sexual morality, through the story of a marriage and its unraveling . . . an impressive feat.

Washington Times