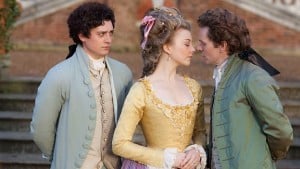 We've entered the home stretch. The Scandalous Lady W will be broadcast in August, though the dates are still up for grabs. At the moment it's looking like either the 20th or the 27th.
In the meantime, Vintage has reissued Lady Worsley's Whim with a slightly rejigged cover and a new title: The Scandalous Lady W. Available on Amazon and on the shelves of that increasingly endangered species, your local book shop. (Click here for paperback and kindle)
I have to admit, this has all been extremely exciting. We had a press screening and Q & A session on the 21st of July and so far the press response has been fantastic. The Daily Mail gets hot under the collar here and the Telegraph has me swearing like a sailor (but all in the name of history) here. I've been told there will be more press coverage closer to the time of transmission, including a big extravaganza in the Radio Times, for which I've written a piece, a photo shoot and interview with Natalie Dormer (our Scandalous Lady W) in the Telegraph and a piece by the talented David Eldridge, our screenwriter in the Times.
Most exciting of all…our first trailer has emerged today. Enjoy!
Devotion. Treachery. Love. Scandal. The true story of #TheScandalousLadyW, coming soon.https://t.co/oGq3W8SFk1

— BBC Two (@BBCTwo) July 30, 2015