2017
Further dates coming soon…
*21 October: Bloomsbury Festival, London: 'Independent Women: Courtesans and Prostitutes in the Georgian Era'
https://foundlingmuseum.cloudvenue.co.uk/independentwomen
* 15 October: Cliveden Literary Festival, Cliveden House: 'Politics, Sex and Scandal'
* 24 September: Dickens Fellowship Literary Event, Broadstairs: 'Harlots and Hangers-on' with Lucinda Hawksley
http://www.dickensfellowship.org/Events/harlots-and-hangers-broadstairs
* 6 July: Fairfax House, York: Talk on The Real Lady Worsley
* 18 March – 1 April: Queen Mary II, guest speaker – China-Korea-Japan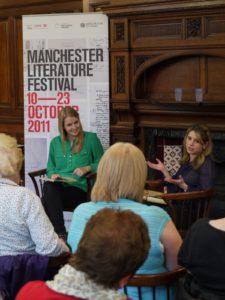 Previous events (2016 – 11):
*22 October: Harrogate History Festival, 12pm 'Revolution!' A panel discussion examining some of history's revolutions. http://harrogateinternationalfestivals.com/history/
*30 June: History in the Court at Goldsboro Books, London, 6pm  http://historyinthecourt.com/JoinUs.html
*28 June: Peterborough Heritage Festival, 7pm 'The Wild Women of Jane Austen's Era'http://www.vivacity-peterborough.com/event/the-wild-women-of-jane-austens-era
*1 – 16 March: P&O Arcadia, guest speaker Sydney to Hong Kong
* 14 November: Paddington Library: 6:30 with Helen Pike discussing writing novels set in the 18th & 19th centuries.
* 22 November: Pimlico Library: 6:00 with Gabrielle Kimm and Linda Stratmann discussing writing sex & scandal
* 29 November: 1 Royal Crescent Museum, Bath: 7:00 appearing with Adrian Teal as part of the Gin Lane Gazette event
* 15 January: Kenwood House, Hampstead Heath (English Heritage Literary Season): 12:00 " 'Wild Women of the 18th Century'
* 25 January: Chipping Barnet Library talk: 6:30, Mistress of My Fate
* 9 March: Living Literature Society talk with Lucinda Hawksley: 7:00, The London Underworld, Hogarth to Dickens, Arthur Probsthain bookshop
* 18 April: Women Aloud Book Club event; 7:00, Mistress of My Fate
* 24 May: Chawton House talk and drink reception: 6:30, 'The Wicked World of Austen's Women'http://www.chawton.org/documents/A6eventsbookletforweb.pdf
* 4 June: How The Light Gets In Festival at Hay on Wye; 2:30 'Selling Ourselves' debate with Brooke Magnanti and Catherine Hakim, and 'For Better or For Worse' debate, 7:30. http://www.howthelightgetsin.org/tickets/all-sessions/
* 16 June: The Leeds Big Bookend Literary Festival; Women, Sex and History with Jane Borodale, Gabrielle Kimm and Anne O'Brien, 1:30, The Carriageworks, Leeds http://bigbookend.co.uk/
* 14 July: Kelmarsh Festival of Historical Literature; 2:00, 'Before Sherlock; Murder in Georgian London'
* 15 July: Kelmarsh Festival of Historical Literature; 11:40, 'Grand Beginnings' " discussing my debut novel with M C Scott
* 12 September: World Monument Fund (www.wmf.org.uk) talk; Behind Closed Doors: The Hidden Histories of Great Buildings with Suzannah Lipscombe, 7:00 at the Royal Geographical Society, Kensington
* 20 September: History in the Court, 5:00 Cecil Court, London in association with Goldsboro Books and the HWA
* 10 October: Cheltenham Literature Festival; 4:00, Georgian London: High Life and Low Life – with Ian Kelly
* 11 October: Cheltenham Literature Festival; 2:00, The Regency Booker Prize – with Paula Byrne, Jenny Uglow, Kate Chisholm, discussing Jane Austen, Mary Shelley, Ann Radcliffe and Fanny Burney.
*28 June: Beckenham Literary Festival (BecFest), 7:00 " talk with Imogen Robertson on 'Writing Fact and Fiction'
*17 July: Kelmarsh Festival of Historical Literature, 11:45  'What Women Wore and Why' with Lesley Downer and Laura Wilson
*13 September: Hampstead and Highgate Literary Festival, – 'Women in History'
*28 September: Winchester Discovery Centre, – 'Love, Sex & History', 7:30
*29 September: History in the Court, 5:00, Cecil Court, London – in association with Goldsboro Books and the HWA
* 3 October: Dr Johnson's House, Private View of 'Now That Would be Telling' art and story installation
*17 October: Manchester Literary Festival
*18 October: Guildford Literary Festival
*20 October: 'Now That Would be Telling' evening event at Dr Johnson's House
*15 November:London History Festival
*18 November: Richmond Literary Festival,'Sex and Taboo in Historical Fiction' with Rosie Thomas @ The Bingham Hotel, 7:30
* 17 November: Thames Valley History Festival; 3:00, Windsor Library: 'Before Sherlock' – crime, murder and mayhem in 18th century London, with Lloyd Shepherd, Imogen Robertson and Rose Melikan