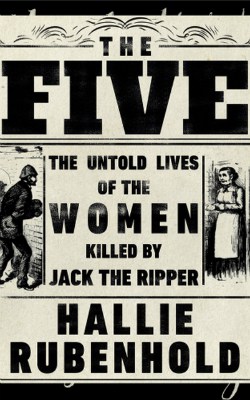 The Five is the first full-length biography to explore and contextualize the lives of the five victims of Jack the Ripper. Offering new insights and drawing on previously unseen or unpublished material, its focus is entirely on the women and not on their murderer.
The story of Jack the Ripper has captivated our attention for over 130 years. Daily, tourists from around the globe make pilgrimages to visit the places where the 'canonical five' women; Polly Nichols, Annie Chapman, Elizabeth Stride, Kate Eddowes and Mary Jane Kelly were murdered while never knowing more than just the most basic 'facts' about their lives. Ask anyone unfamiliar with the details of the case what they know about Jack the Ripper and the response will almost certainly be 'he killed prostitutes'.
But what if virtually everything we'd ever come to assume about these five women was largely untrue? What if our general lack of understanding of how poor, working class women lived or how 'respectable society' viewed them has led us to believe that all of these women were 'just prostitutes', and that somehow this label has made their lives less worthy of exploration or commemoration? What if we learned that none of them were born in Whitechapel, or even in the East End, but ended up there after living full lives elsewhere? What if we learned that these women had been either wives or mothers or both? What would we think of ourselves and our society for never having questioned these things?
The Five promises to completely change the narrative of the Ripper murders. As an investigation into these women's experiences, it traces the surprising triumphs and heart-breaking difficulties they encountered throughout their lives. In hearing their stories it will be impossible for us to ever again see them as something other than daughters, wives, sisters, lovers and mothers or to remember them simply as nameless, faceless victims.
The Five is released on 28th February in the UK and the 9th of April in the US. It available for pre-order on Amazon here: